I come from Mormon pioneer heritage. My people include:
Mary Taylor Upton Simmons Robinson is my surviving ancestor; she was with the Martin Handcart Company. Her parents and her husband died on the journey; her mother and her husband died at Devil's Gate, now known as Martin's Cove. Her father died at Fort Laramie, one month earlier. Their names are listed on the wall at Martin's Cove's visitors center. Mary is listed as Mary Upton, and her husband was William Upton. Joseph and Harriet Sidwell Taylor are her parents. Mary was born at Cotton, in, the Elms, England. Her family converted to the LDS religion there in August, 1845. She married William Upton in 1855 and along with her parents they immigrated to America. They joined the Martin Handcart Co., and headed west. Her father, Joseph, became sick and died October 8, 1856 of malnourishment and fatigue. With her feet wrapped in gunny sacks, she, William, and her mother traveled to Martin's Cove. Their clothes froze to their bodies, and Mary's mother died. That same day her husband also died. A shallow grave was dug in the frozen earth, and mother and husband were buried together.
A group of men were sent by
Brigham Young to rescue the pioneers at Martin's Cove. William Burt Simmons was 58 years old when he left Bountiful, Utah to help. When he rescued Mary, her feet were black and frozen. He took her and a group of pioneers to his home where they were nursed back to health. Mary married William Burt in polygamy in March 1857. They had five children. When Burt died in 1866 her youngest child was one year old. In 1867 she married Joseph Robinson who had four wives. They had four children.
Mary was 69 years old when she died. She didn't like to talk about her experiences traveling to Utah. She had thinning grey hair and wore it in a bun. It is said that she had a serene and pleasant personality.
Amanda Chipman Simmons was William Burt Simmons' first wife. She and Burt had six children. She was 46 years old when Burt married Mary Taylor Upton, whom they had nursed back to health from the Martin Handcart Company. Amanda received personal revelation that Burt should marry Mary in polygamy. She said, "Unless you have been touched by the spirit, one will never understand a polygamist marriage." She was a seamstress and made clothing and household fancies.
Ann Shelton Howard was born in England in 1816. Her family of eleven children converted to the LDS faith, and her husband, Joseph, became a branch president for the church. When an opportunity
came to travel to America, the Shelton's oldest two sons were sent over to work and earn money to bring the rest of the over. It is said that Ann was a loving mother, affectionate, and generous. She weighed about 200 pounds and had auburn hair, which she wore in ringlets. The family arrived in America and left Nebraska headed west in August 1864. On the journey, her daughter, Matilda (6 yrs. old) died in August, and another, Tamar (3 yrs. old) died in September. Broken-hearted and weak, Ann died in October 1864, 300 miles east of Salt Lake City, at Little Bitter Creek. She was buried there. She never did see her two sons. In a letter to her sons Ann wrote, "You are never forgotten. Do not be afraid, be good boys and do your duty, and God will watch over you."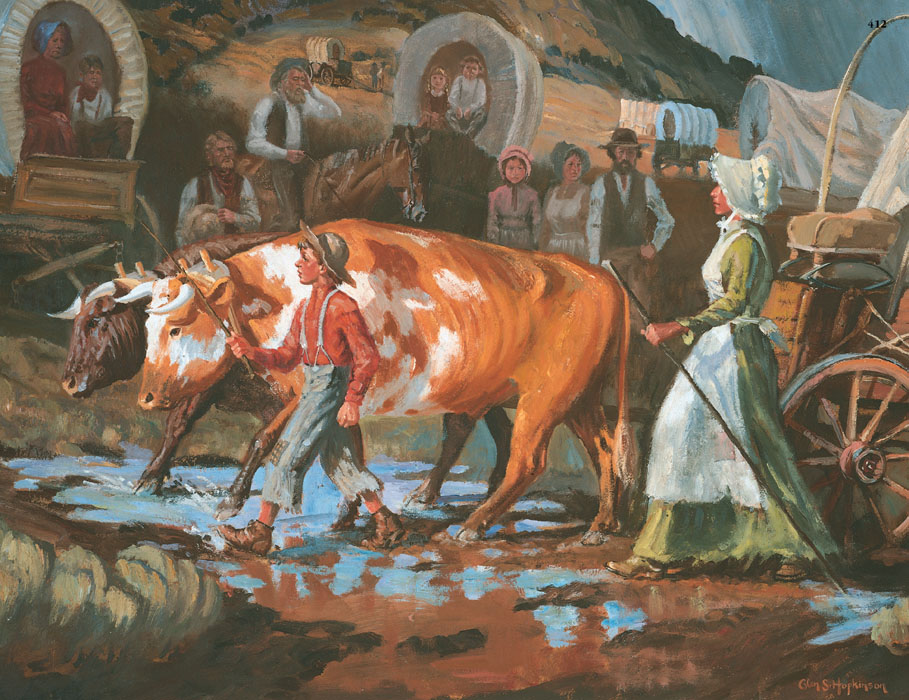 What does this have to do with my cancer journey? More tomorrow.